End of Line EV Battery Module Test
Introducing "JP Hero". Our solution for handling large battery modules.
Our hero has three superpowers. He is incredibly strong, incredibly precise and super fast.
These qualities make him our "JP Hero" (heavy exact rapid operator).
What exactly does our special system do?
End of Line EV Battery Module Test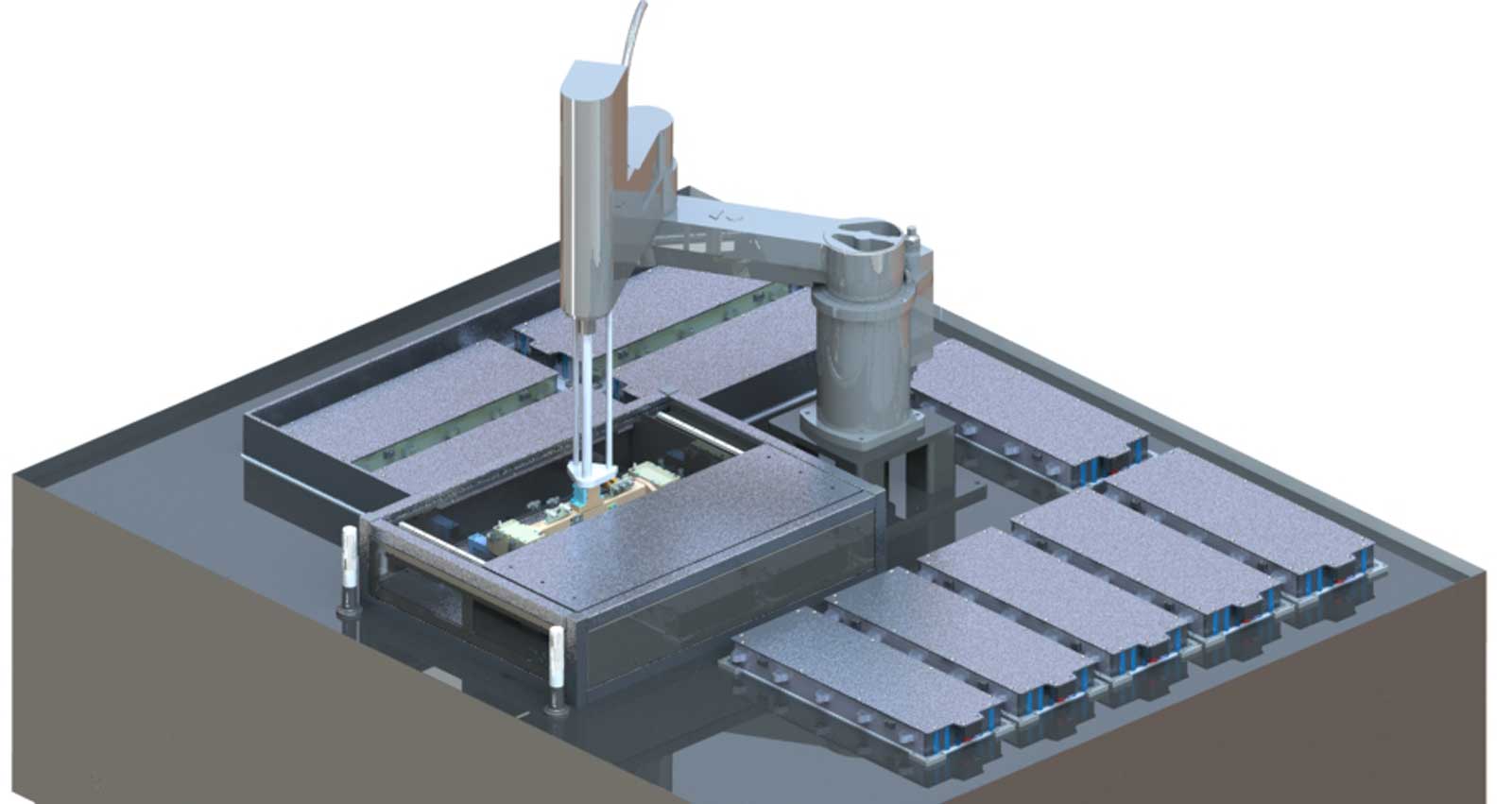 An "End of Line Battery Test" (EOL battery test) is a procedure in which batteries or accumulators are checked for their performance and quality at the end of the production line. This test is typically performed to ensure that the batteries meet the required specifications and are functioning properly before they are shipped or installed.
In this process, the battery modules are placed in an automatic test bench where these tests are carried out. An employee usually does this by hand. Since our modules are complete battery packs for electric vehicles, they are far too heavy at 35 kilograms to be placed on a test bench by hand. In addition, depending on the scope, the actual test can only last a few seconds or minutes, which creates a high repetition rate.
The EOL battery test can include different parameters depending on the type of battery and the requirements of the manufacturer. Typically, the following aspects are checked:
The actual capacity of the battery is measured to ensure it matches the declared values. This is usually done by discharging the battery and measuring the amount of energy delivered.
The battery voltage is checked to ensure it is within the required range for the intended use.
The internal resistance of the battery is measured because high internal resistance can indicate problems such as internal damage or aging.
The battery is tested for its charge and discharge behavior to ensure that it meets the expected requirements and does not show any unusual deviations or losses.
The test also includes checking battery stability and safety features to ensure the battery poses no risk of overheating, outgassing or damage.
Our "JP Hero" is used wherever heavy weight needs to be moved as quickly and precisely as possible. In our example of battery modules for electric vehicles, we see one of the largest areas of application.
Even if China produces by far the most electric vehicles in the world, Germany is right behind it in second place, closely followed by the USA. At the same time, the number of vehicles produced with combustion engines is slowly but steadily falling. For several years now, this has resulted in a rethinking in the automotive industry, which harbors many new opportunities, but also challenges for manufacturers and suppliers.
New technologies are being developed and existing ones are being improved at high speed. This leads to another crucial aspect, the desire for more flexibility. This is where robots come into play, which can be converted to new conditions much more easily and quickly than conventional production systems.
However, these trends are not exclusive to the automotive industry, but can be observed in more and more areas. Technological progress and the current shortage of skilled workers are leading to a rethink in many places. Robots are also being used more and more frequently in sectors where this was previously unthinkable or only imaginable. The offer here is becoming more and more attractive, especially for small and medium-sized companies.
Together we will be happy to check whether "JP Hero" or another robot offers the optimal solution for your individual requirements.
Yamaha as a strong partner
The partnership between Yamaha Robotics and JP Industrieanlagen offers a variety of benefits for both companies as well as for customers in the manufacturing industry.
Yamaha Robotics is a renowned supplier of robot technology and has many years of experience in the development and manufacture of high-quality robot systems. JP Industrieanlagen brings extensive knowledge and expertise in the areas of industrial automation and plant construction. Through the partnership, both companies benefit from the combined expertise and can offer a broader range of solutions for their customers.
Yamaha Robotics has built a reputation for innovative and reliable robotic solutions. With its wide range of industrial robots, including SCARA robots, articulated robots and linear actuators, Yamaha Robotics offers flexible and efficient automation solutions for various applications. The partnership with JP Industrieanlagen allows both companies to expand their technological capabilities and offer tailor-made solutions that meet the specific needs of customers.
There is the right tool for every task. In the case of "JP Hero", the Yamaha YK1200X Scara robot is used. This represents the heart of the super powers of "JP Hero". With its 50 kg payload, a speed of up to 7.4 meters per second, high precision and compact size, it has the superhuman abilities of "JP Hero".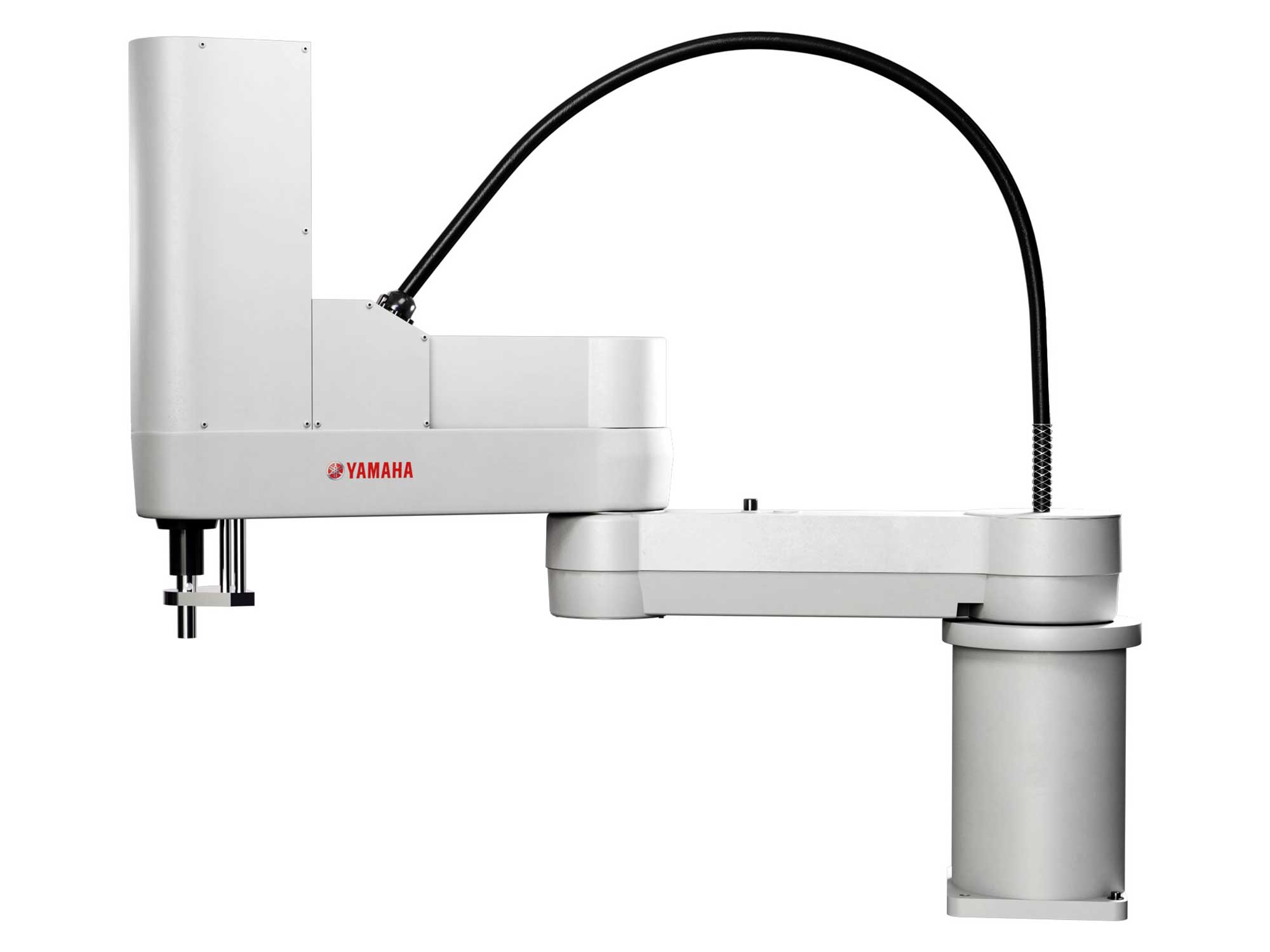 Grippers from IPR - intelligent peripherals for robots
The renowned company IPR – Intelligent Peripherals for Robots designed the gripper for our trade fair model. The gripper consists of two CGS2-160-1 grippers and was specially built for our application. We are fortunate to have a partner with such extensive gripper manufacturing expertise on our side.
IPR has established itself as a leading company in the industry and stands for quality, precision and innovative solutions. Their many years of experience and expertise have enabled them to develop a gripper that is perfectly tailored to our requirements.
Their expertise and commitment help make our trade fair model an impressive and effective product. We look forward to future projects with IPR and are confident that they will continue to support us with their world-class solutions.
We take you with us in the creation of our superhero. We will keep you up to date on the current status of our trade fair model with photos and videos.
Overall, the partnership between Yamaha Robotics and JP Industrieanlagen offers a strong combination of expertise, technology and customer service. By working together, both companies can strengthen their position in the market and offer you high-quality, individual automation solutions to improve efficiency and productivity in your company.
Together we are:
Partner. For solutions.



Benefit from the best quality
Do you have questions about our products, our factory, our claim?
Then please contact us. We are at your disposal for your questions!