Automation, planning, programming and service.
With our know-how and our top-class partners, we will find the right robot solution for your automation. Industrial robots, Scara, Cobots, AGV and much more. We have the overview and the solution for your requirements.
We are your partner for automated robotics solutions
Are you looking for the ideal robot solution for your automation requirements? With our extensive know-how and our top-class partners, we are at your side to realize exactly what you are looking for.
Our offering includes a variety of industrial robots including SCARA robots, cobots, automated guided vehicles (AGVs) with fleet solutions and more. We understand that every client has unique requirements and as such we offer bespoke solutions to ensure you achieve your goals.
Thanks to our many years of experience and our in-depth expertise, we have a good overview of the constantly evolving robotics market. We always stay at the cutting edge of technology to offer you the most innovative and efficient solutions.
Our goal is to realize your automation vision. We work closely with you to understand your needs and present you with the optimal robotic solution. From planning and consulting to implementation and maintenance, we are your reliable partner for the entire process.
Trust our expertise and let us help you increase your productivity, reduce costs and maximize your operational efficiency. Contact us today to learn more about our robotics solutions and how we can help you.
Arrange a free consultation now and discover the many possibilities of robotic automation for your company.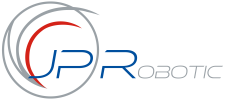 We work with well-known partners to find the right solution for you. In addition to the robots, such as those from Yamaha Robotics or Neura Robotics, the gripper is also a crucial element for your individual solution. Here we have a strong partner at hand in IPR. And even in-house productions using additive manufacturing are no problem for us.
Your biggest advantage, however, is that we are manufacturer-independent. So if you prefer another manufacturer for robots, grippers or controls, we can also create the right solution for you here.
Automation thanks to robotics
Use our know-how for your robotics solution and counter the shortage of skilled workers with the latest technology.