We present "JP Malo+". Our solution for linking different systems within a factory.
Our "JP Malo+" (Machine Loader plus AGV) combines the advantages of a cobot with those of an automated guided vehicle system. With a payload of up to 1.5 tons, our AGV is extremely strong and, thanks to the built-in sensors, does not need its own route. The cobot system is extremely variable and can immediately find its way around any location thanks to the built-in camera.
What exactly does our application do?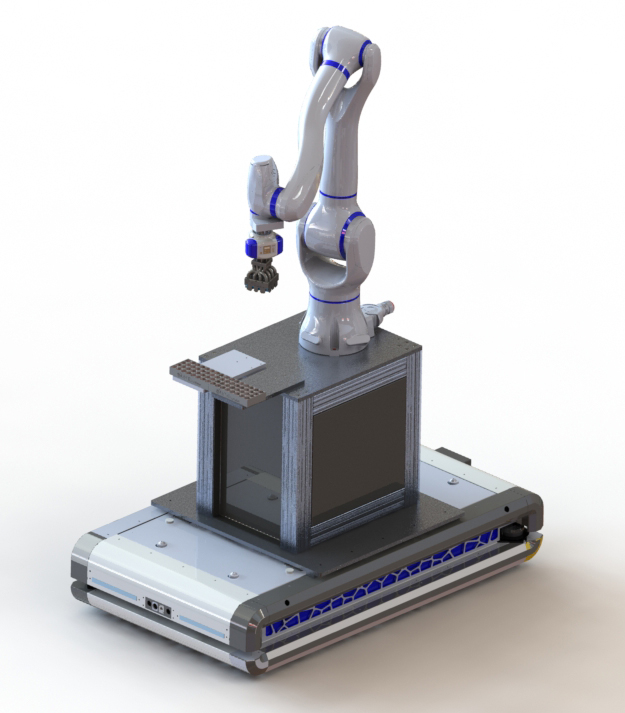 Our "JP Malo+" is an example of connecting two separate production lines in one factory. In our application, the link starts at JP Pajo, where the round cells that have already been checked there are recorded. Since our AGV has its own cobot mounted on it, the round cells are picked up by it and placed on the AGV for transport. This has the advantage that the inspection process at JP Pajo does not have to be interrupted and no camera system is necessary there. With the help of the camera, "JP Malo+" detects its position on the table and can easily record the round cells with the vacuum system.
The AGV MAV from Neura Robotics can transport up to 1.5 tons, making it very effective in factory use. In our example, "JP Malo+" travels to the other end of the exhibition stand to our "JP Glue" application. Once there, the battery modules are populated by the integrated cobot, which has the advantage that no additional robot is necessary.
This combination means that existing production lines can also be integrated into fully automatic production automation without much effort.
Where is "JP Malo+" used?
Our "JP Malo+" is particularly suitable for linking existing production lines and for transport within factory facilities. Due to the high payload of up to 1.5 tons, there are hardly any limits to the possibilities. A wide variety of transport systems and robots can be used, depending on individual customer requirements.
Neura Robotics as a strong partner
The partnership between Neura Robotics and JP Industrieanlagen offers a variety of benefits for both companies as well as for customers in a wide range of industries.
Neura Robotics shines as a startup with an innovative way of thinking and progressive ideas and systems. JP Industrieanlagen brings extensive knowledge and expertise in the areas of automation and plant engineering. Through the partnership, both companies benefit from the combined expertise and can offer a broader range of solutions for their customers.
The combination of MAV with a collaborative robot enables complete process automation, which significantly reduces the time required for individual operations. Combining this system with a shelf attachment allows for the handling of smaller production parts.

Grippers from JP3D TecVision
Since 2016, the company JP3D TecVision has been producing a wide variety of parts and grippers using 3D printing from plastic and metal. Especially in the area of grippers for cobots, the weight of the gripper plays an important role in terms of the speed and also the price of the cobots. Thanks to 3D printing, extreme weight optimizations can be implemented that would not be possible in conventional production.



Benefit from the best quality
Do you have questions about our products, our factory, our claim?
Then please contact us. We are at your disposal for your questions!