Start of line round cell battery test
Introducing "JP Pajo". Our solution for traceability and verification of round cells.
Variable adaptable, intelligent and weight-optimized, that is our "JP Pajo" (proof autonomously joint optimization).
What exactly does our application do?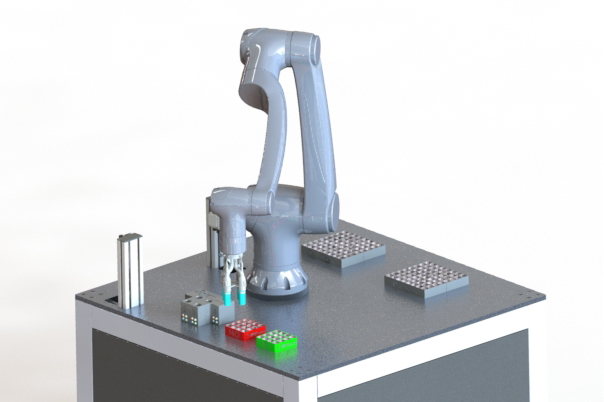 A "Beginning of Line Battery Test" (BOL battery test) is a procedure in which batteries or accumulators are tested for their performance and quality at the beginning of the production line. This test is usually performed to ensure that the batteries meet the required specifications and are functioning properly before further processing begins.
In our application, the round cells are picked up by a cobot with a 3D printed vacuum gripper. The built-in scanner records the individual QR codes of the individual round cells and saves them in order to ensure traceability of each individual round cell. The round cells are then placed in the test unit and checked automatically. All round cells that test positive are stored in larger battery nests for further processing. Defective round cells are already sorted out here.
The BOL battery test can include various parameters depending on the type of battery and the manufacturer's requirements. Typically, the following aspects are checked:
The actual capacity of the battery is measured to ensure it matches the declared values. This is usually done by discharging the battery and measuring the amount of energy delivered.
The battery voltage is checked to ensure it is within the required range for the intended use.
The internal resistance of the battery is measured because high internal resistance can indicate problems such as internal damage or aging.
The battery is tested for its charge and discharge behavior to ensure that it meets the expected requirements and does not show any unusual deviations or losses.
The test also includes checking battery stability and safety features to ensure the battery poses no risk of overheating, outgassing or damage.
Our "JP Pajo" is used where handling and traceability of large quantities is important. The technology used is variable and adapts to the desired specifications of our customers. Collaborative, industrial or even without robots, our systems are adapted to your budget and cycle times. In our example of round cells for battery modules in electric vehicles, we see a wide range of applications.
Even though China produces by far the most electric vehicles in the world, Germany is right behind in second place, closely followed by the USA. At the same time, the number of vehicles produced with combustion engines is slowly but steadily falling. For several years now, this has resulted in a rethinking in the automotive industry, which harbors many new opportunities, but also challenges for manufacturers and suppliers.
New technologies are being developed and existing ones are being improved at high speed. This leads to another crucial aspect, the desire for more flexibility. This is where robots come into play, which can be converted to new conditions much more easily and quickly than conventional production systems.
However, these trends are not exclusive to the automotive industry, but can be observed in more and more areas. Technological progress and the current shortage of skilled workers are leading to a rethink in many places. Robots are also being used more and more frequently in sectors where this was previously unthinkable or only imaginable. The offer here is becoming more and more attractive, especially for small and medium-sized companies. And thanks to collaborative robots, applications without fences and in limited space are also possible.
Together we will find the optimal solution for your individual requirements.
Neura Robotics as a strong partner
The partnership between Neura Robotics and JP Industrieanlagen offers a variety of benefits for both companies as well as for customers in a wide range of industries.
Neura Robotics shines as a startup with an innovative way of thinking and progressive ideas and systems. JP Industrieanlagen brings extensive knowledge and expertise in the areas of automation and plant engineering. Through the partnership, both companies benefit from the combined expertise and can offer a broader range of solutions for their customers.
LARA closes the gap between the world of collaborative robots and industrial robots. Combining industrial performance with an intuitive user interface makes LARA the perfect solution for any application.
Grippers from JP3D TecVision
Since 2016, the company JP3D TecVision has been producing a wide variety of parts and grippers using 3D printing from plastic and metal. Especially in the area of grippers for cobots, the weight of the gripper plays an important role in terms of the speed and also the price of the cobots. Thanks to 3D printing, extreme weight optimizations can be implemented that would not be possible in conventional production.



Benefit from the best quality
Do you have questions about our products, our factory, our claim?
Then please contact us. We are at your disposal for your questions!